Wyndham's Theatre
32-36 Charing Cross Road, London, WC2H 0DA GB
Visas nu på
Wyndham's Theatre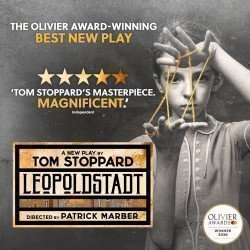 öppen
Leopoldstadt
Wyndham's Theatre
4/5
-

Baserat på

12

recensioner - (recensioner)
4

12

recensioner
Biljetter från 214:-
Tom Stoppard's Olivier Award-winning BEST NEW PLAY returns to the Wyndham's Theatre for 12 weeks only.
LEOPOLDSTADT – the Olivier Award-winning new 'masterwork' (Evening Standard) by Tom Stoppard opened to overwhelming critical acclaim in early 2020, playing seven weeks of sold-out performances, before being temporarily shut down. Since then, the grand Viennese apartment on Wyndham's stage has waited for a great reawakening, as audiences eagerly anticipate the return of LEOPOLDSTADT. Now, Stoppard's 'unforgettable play from the heart' (The Telegraph) re-opens in the West End, June 2021.
Sista föreställning: lördag 30 oktober 2021
Leopoldstadt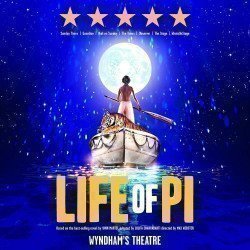 Öppnar 14 nov 2021
Öppnar 14 november 2021
The Life of Pi
Wyndham's Theatre
Biljetter från 357:-
After a cargo ship sinks in the middle of the vast Pacific Ocean, there are five survivors stranded on a lifeboat - a hyena, a zebra, an orangutan, a Royal Bengal tiger, and a sixteen year-old boy named Pi. Time is against them, nature is harsh, who will survive?
Based on one of the most extraordinary and best-loved works of fiction – winner of the Man Booker Prize, selling over fifteen million copies worldwide – and featuring breath-taking puppetry and state-of-the-art visuals, Life of Pi is a universally acclaimed, smash hit adaptation of an epic journey of endurance and hope.
Start: söndag 14 november 2021
Sista föreställning: söndag 27 februari 2022
The Life of Pi
Wyndham's Theatre faciliteter
Luftkonditionerad
Bar
Handikapptoaletter
Infraröd hörslinga
Medlem i Q-Park scheme
Toaletter
Rullstolsåtkomst
Wyndham's Theatre för rörelsehindrade
Rörelsehindrade teaterbesökare och deras vårdare kan ibland få rabatterade biljetter. För alla bokningar ring Wyndham's Theatre på 034 4482 5137.
Wyndham's Theatre Karta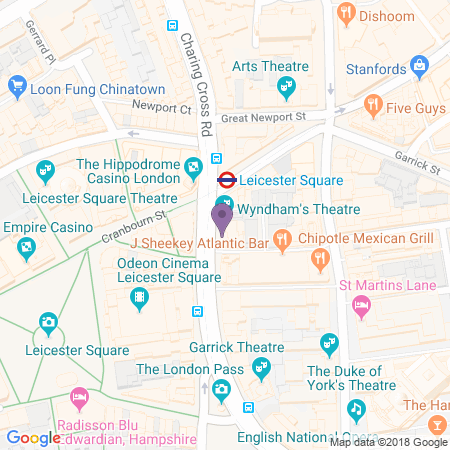 Vägbeskrivningar
Reseinformation
Närmaste tunnelbanestation
Leicester Square

Covent Garden
Närmaste tågstation
Dagbussar
(Charing Cross Road) 24, 29, 176; (Shaftesbury Avenue) 14, 19, 38
Nattbussar
(Charing Cross Road) 24, 176, N5, N20, N29, N41, N279; (Shaftesbury Avenue) 14, N19, N38