O2 Arena
Peninsula Square, London, SE10 0DX GB
Visas nu på
O2 Arena
Öppnar 30 jun 2021
Öppnar 30 juni 2021
Cirque du Soleil - Corteo (O2 Arena)
O2 Arena
Biljetter från 512:-
The clown Mauro has passed, but his spirit is still with us. Instead of mourning, the funeral cortege celebrates the here and hereafter with laughter and exuberance. Rich, extravagant memories frolic with the senses. The sound of laughter peals around the stage, visions of joyous tumblers and players fascinate the eyes. Regret and melancholy retreat in the face of a cavalcade of lively recollections of a life gloriously lived. A festive parade that entertains; the perfect accolade for an artist whose life was dedicated to revelry and making merry.
Start: onsdag 30 juni 2021
Sista föreställning: söndag 11 juli 2021
Visas nu på: O2 Arena
Sista föreställning: söndag 11 juli 2021
Cirque du Soleil - Corteo (O2 Arena)
Öppnar 11 feb 2022
Öppnar 11 februari 2022
Strictly Come Dancing - O2 Arena
O2 Arena
5/5
-

Baserat på

1

recension - (recensioner)
5

1

recension
Biljetter från 554:-
2022 will see the return of the magnificent Strictly Come Dancing Live Arena Tour. Kicking off in Birmingham on 20 January 2022, a host of the celebs and professional dancers from the BBC One TV series will waltz around the country performing 33 shows in some of the UK's biggest arenas in Leeds, Newcastle, Manchester, Sheffield, Liverpool, Glasgow, Nottingham and London. As a result of Covid-19 restrictions – and to keep everyone safe – the 2021 arena tour will not go ahead, but tickets for the 2022 arena tour are on sale now.
Start: fredag 11 februari 2022
Sista föreställning: söndag 13 februari 2022
Visas nu på: O2 Arena
Sista föreställning: söndag 13 februari 2022
Strictly Come Dancing - O2 Arena
O2 Arena faciliteter
Luftkonditionerad
Bar
Handikapptoaletter
Infraröd hörslinga
Restaurang
Toaletter
Rullstolsåtkomst
O2 Arena Karta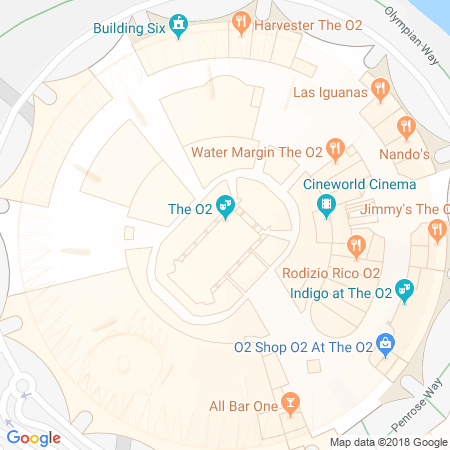 Vägbeskrivningar
Reseinformation
Närmaste tunnelbanestation
Dagbussar
(North Greenwich Station) 129, 132, 108, 161, 188, 422, 472, 486
Nattbussar
(North Greenwich Station) 108, 188, 472