268-269 Tottenham Court Road, London, W1T 7AQ GB
Kort fakta
Störst biljettutbud i West End
Tillgängliga platser i realtid
Välj dina platser
Din bokning hanteras direkt i biljettkontorets reservationssystem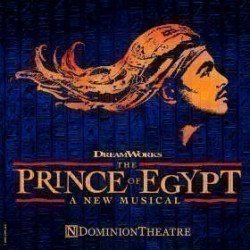 The Prince of Egypt
Start: onsdag 5 februari 2020
Sista föreställning: lördag 12 september 2020
Biljetter från 287:-
Boka biljetter
Om The Prince of Egypt
Åldersbegränsningar
Suitable for a general audience and recommended for children 7+. Children under the age of 5 cannot be admitted.
Viktig information
Everyone attending the theatre must have a valid ticket regardless of age.
Tid föreställningar
Start: onsdag 5 februari 2020
Sista föreställning: lördag 12 september 2020
Beskrivning: The Prince of Egypt
Experience the epic emotion and soaring music of THE PRINCE OF EGYPT, the extraordinary new musical from three-time Academy Award-winner Stephen Schwartz (composer of the global phenomenon Wicked). Journey though the wonders of Ancient Egypt as two young men, raised together as brothers in a kingdom of privilege, find themselves suddenly divided by a secret past. One must rule as Pharaoh, the other must rise up and free his true people; both face a destiny that will change history forever. Based on the acclaimed DreamWorks Animation film, and featuring the Academy Award-winning, chart-topping song 'When You Believe', THE PRINCE OF EGYPT is an exhilarating, powerful and joyous celebration of belief and the human spirit.
Nästa föreställning av The Prince of Egypt på Dominion Theatre