3 Fulton Road, Wembley, London, HA9 8TS GB
Kort fakta
Störst biljettutbud i West End
Tillgängliga platser i realtid
Välj dina platser
Din bokning hanteras direkt i biljettkontorets reservationssystem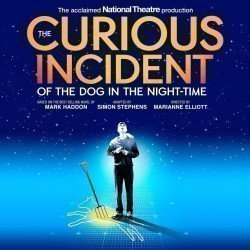 The Curious Incident of the Dog in the Night-Time
4,7/5
-

Baserat på

486

recensioner
Start: lördag 20 november 2021
Sista föreställning: söndag 9 januari 2022
Speltid: 2 hours 30 minutes
Biljetter från 285:-
Boka biljetter
Om The Curious Incident of the Dog in the Night-Time
Åldersbegränsningar
Rekommenderas från 13 år
Viktig information
This production contains strobe lighting, smoke effects, high intensity video & light effects, and loud sound effects. Suitable for 11yrs+
There is some strong language in this production, as there is in the novel. This occurs at the very beginning of the show and infrequently at other points during the show.
Latecomers will be asked to wait whilst watching the latecomers' monitor until a scene called 'The Street' before being allowed into the auditorium. This is approximately 15 minutes into Act 1. Audience members arriving after this time will be required to wait until the interval.
Tid föreställningar
Start: lördag 20 november 2021
Sista föreställning: söndag 9 januari 2022
Speltid: 2 hours 30 minutes
Beskrivning: The Curious Incident of the Dog in the Night-Time
The Daily Mail, Daily Telegraph, Evening Standard, Guardian, Independent, The Times, Time Out, Londonist, Sunday Times och fler tidningar har alla gett denna fantastiska produktion en stor tummen upp, och bland annat kallat den för ett under, en framgång ur alla vinklar, en triumf som fångar djupet och den gripande karaktären hos den ursprungliga texten, och den tillfogar teaterkänslor med stor framgång.
Regissören Marianne Elliott har fått massor av välförtjänt beröm för sin regi, som har samma betydande kreativitet och stil som hon tillförde som medregissör av dundersuccén och dockspelstriumfen War Horse. Du kan förvänta dig samma höga kvalitetsnivå av The Curious Incident. För att citera The Times: "Om det någonsin funnits en perfekt teaterblandning av framträdanden och effekter, är detta resultatet."
Nästa föreställning av The Curious Incident of the Dog in the Night-Time på Troubadour Theatre - Wembley
The Curious Incident of the Dog in the Night-Time recensioner
4,7 av 5
Baserat på

486

recensioner
Globala omdömen:
Skådespeleri
Musik
Kostymer
Handling
Ljussättning
Rekommenderas för:
Alla (67%)
Familjer (71%)
Tonåringar (87%)
Par (87%)
Teaterfans (95%)
Senaste Kundrecensioner

En häftig teaterupplevelse!
En otroligt bra föreställning som berättas på ett så interaktivt och nytt sätt. De tekniska lösningarna överraskade hela tiden och dessutom fantastiska skådespelarinsatser. Väl värd att se!
Skriven den 05 april 2015 av Anonym