Piccadilly Circus, London, SW1Y 4XA GB
Kort fakta
Störst biljettutbud i West End
Tillgängliga platser i realtid
Välj dina platser
Din bokning hanteras direkt i biljettkontorets reservationssystem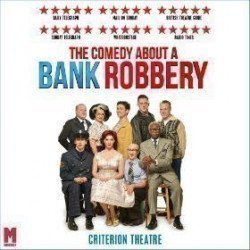 The Comedy About A Bank Robbery
4,7/5
-

Baserat på

572

recensioner
Sista föreställning: tisdag 5 maj 2020
Speltid: 2 hours 30 minutes (One interval)
Biljetter från 149:-
Boka biljetter
Om The Comedy About A Bank Robbery
Åldersbegränsningar
Suitable for 11+ 
Viktig information
Moderate sexual innuendos throughout. Suitable for 11+
Tid föreställningar
Sista föreställning: tisdag 5 maj 2020
Speltid: 2 hours 30 minutes (One interval)
Beskrivning: The Comedy About A Bank Robbery
Mischief Theatre's smash-and-grab hit The Comedy About A Bank Robbery is a fast, fabulous comedy caper and the funniest show in the West End!
Summer 1958. Minneapolis City Bank has been entrusted with a priceless diamond. An escaped convict is dead set on pocketing the gem with the help of his screwball sidekick, trickster girlfriend… and the maintenance man. With mistaken identities, love triangles and hidden agendas, even the most reputable can't be trusted. In a town where everyone's a crook, who will end up bagging the jewel?
Book now for this dynamite comedy. It would be criminal to miss it!
★★★★★ "This is the funniest show in the West End" The Telegraph
★★★★★ "A fast and fabulous comedy caper is a joyful night out" The Times
Nästa föreställning av The Comedy About A Bank Robbery på Criterion Theatre
The Comedy About A Bank Robbery recensioner
4,7 av 5
Baserat på

572

recensioner
Globala omdömen:
Skådespeleri
Musik
Kostymer
Handling
Ljussättning
Rekommenderas för:
Alla (76%)
Familjer (81%)
Tonåringar (85%)
Par (90%)
Teaterfans (90%)
Senaste Kundrecensioner

Komiskt underhållande
Fantastiska mångkunniga skådespelare som gav en fartfylld fars med stor komik och glädje och med hög energi.
Skriven den 29 juni 2016 av Thomas, Örebro, Sweden