66 The Cut, London, SE1 8LZ GB
Kort fakta
Störst biljettutbud i West End
Tillgängliga platser i realtid
Välj dina platser
Din bokning hanteras direkt i biljettkontorets reservationssystem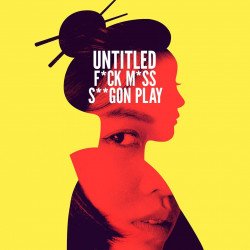 Untitled f*ck m*ss s**gon play
Start: tisdag 19 september 2023
Sista föreställning: lördag 4 november 2023
Biljetter från 350:-
Boka biljetter
Information
Billiga biljetter
Om Untitled f*ck m*ss s**gon play
Tid föreställningar
Start: tisdag 19 september 2023
Sista föreställning: lördag 4 november 2023
Beskrivning: Untitled f*ck m*ss s**gon play
Kim is having one of those days. A terrible, very bad, no-good kind of day, and the worst part is...it all feels so familiar. Caught up in a never-ending cycle of events, she looks for the exit but the harder she tries, the worse it gets and she begins to wonder: who's writing this story? She makes a break for it, smashing through a hundred years of bloody narratives that all end the same way. Can she find a way out before it's too late?
With breathless hilarity, Kimber Lee's untitled f*ck m*ss s**gon play jumps through time – wriggling inside of and then exploding lifetimes of repeating Asian stereotypes, wrestling history for the right to control your own narrative in a world that thinks it can tell you who you are. Winner of the inaugural Bruntwood Prize for Playwriting 2019, International Award, this powerful world premiere is directed by Roy Alexander Weise (The Mountaintop) for the Royal Exchange Theatre as part of Manchester International Festival.
 
Åldersbegränsningar
Age guidance: 14+
Viktig information
Age guidance: 14+

The play contains strong language, references to racist stereotypes of East Asian/South Asian/Pacific Islands people, implied sexual situations, and allusions to miscarriage. There are heavily stylised and unrealistic depictions of suicide, as well as blood, knives and guns.
Assisted performances: 
Relaxed Performances: Fri 20 Oct, 7.30pm & Sat 21 Oct, 2.30pm
BSL Performance: Fri 27 Oct, 7.30pm
Audio Described Performances: Fri 6 Oct, 7.30pm & Thu 19 Oct, 7.30pm
Captioned Performances: Tue 17 Oct 7.30pm & Thu 2 Nov, 7.30pm
Billiga Untitled f*ck m*ss s**gon play Biljetter
Se Untitled f*ck m*ss s**gon play i London! Om ni söker rabatterade teaterbiljetter, ta en titt nedan för våra senaste erbjudanden till Untitled f*ck m*ss s**gon play på Young Vic och spara upp till 70%.
Det finns inga tillgängliga specialerbjudanden för tillfället, men vi har fortfarande bra biljettpriser för Untitled f*ck m*ss s**gon play på Young Vic.