Den här föreställningen är nedlagd.
Kort fakta
Störst biljettutbud i West End
Tillgängliga platser i realtid
Välj dina platser
Din bokning hanteras direkt i biljettkontorets reservationssystem
Den här föreställningen är nedlagd.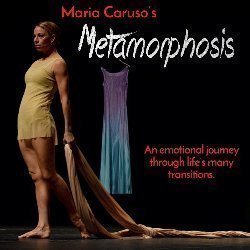 Metamorphosis
5/5
-

Baserat på

1

recension
Håll mig informerad
Meddela mig när biljetter till Metamorphosis släpps.
Information
Billiga biljetter
Recensioner
Om Metamorphosis
Tid föreställningar
Beskrivning: Metamorphosis
Hailed as one of Maria Caruso's greatest solo creations to date, Metamorphosis, has been performed across the globe since its critically acclaimed five-month run off-Broadway in 2021.

A dance theatre work, heavily influenced by the artist's ballet and modern vocabularies, the audience is immersed in the emotion of the creator's true story and selfless expression on the stage. Caruso's powerful solo show is considered one the most unique works of theatre without the utterance of a single word. Her entire body transfixes the audience through her raw and personal metamorphosis, leaving you changed forever through the universality of emotions on stage.

The evening length performance took root after Caruso's extensive work with the Martha Graham Contemporary Dance Company and the artistic evolution resulting from her performances of Martha Graham's iconic solo Lamentation. Hungry to create an expansive work for the world's stage, Metamorphosis was born.

The work is a spiritual and powerful journey through life's many transitions, and it is based on Caruso's own experiences but broadened to be more universal. Throughout the performance, the audience is absorbed in Caruso's drastic emotional shifts as she uses a series of costume changes into differently-colored dresses as a metaphor for turning points in her character's journey.

"Embracing the gravity of the moment, Caruso unleashed in her solo a passionate portrayal of a woman know ledged in the heartaches and joys of life that was bursting with her anxieties, sadness, soaring giddiness and breathless embracing of love and desire." - Steve Sucato

"...rage, sadness, sensuality. Caruso conveys these feelings with her entire body, which extends and contorts in ways that would leave us mere mortals breathless if we tried." - Zachary Stewart (TheaterMania)

"At the last moment, Maria Angelica Caruso walks through the center aisle, striding past the fabrics tossed to the ground. Not only has she conquered the memory of a dancer's past, she has also brought the audience through every step." - Marcina Zaccaria (Theater Pizzazz)
Billiga Metamorphosis Biljetter
Se Metamorphosis i London! Om ni söker rabatterade teaterbiljetter, ta en titt nedan för våra senaste erbjudanden till Metamorphosis på Lyric Theatre och spara upp till 70%.
Det finns inga tillgängliga specialerbjudanden för tillfället, men vi har fortfarande bra biljettpriser för Metamorphosis på Lyric Theatre.